Look, this post is going to go on for a
while
telling you about what
Meow the Infinite
is, how it works, what the Digital Deluxe edition is, and all that stuff. But why waste your time reading this post when you could just
start reading Meow the Infinite right now
? I don't understand. If you're reading this sentence, you obviously didn't start reading
Meow the Infinite
. You could be
in the middle of a feline space adventure
but instead you're reading a boring blog post. Who makes that kind of decision? It's blatantly self-defeating. Well, I tried to help. I really did. But if you still insist on reading this post, I won't try to stop you:
Introducing Meow the Infinite!
Meow the Infinite
is the epic story of a young girl whose universe is threatened by a destructive force beyond her comprehension, and the fearless starfaring feline with whom she must confront it. It's published serially, so you can read it on-line at
meowtheinfinite.com
as new issues are released. The final collection will run around 200 pages, although we won't know the exact number until every issue is completed. Of course, we have to fund it somehow, since comics take a tremendous amount of work to make. But we didn't really want to have ads all over it, so we decided to try a different model entirely. We wanted to make an on-line comic you could actually
buy
, like a normal comic, and we wanted you to get something really great if you did. We didn't want it to feel like a donation or a Patreon subscription, we wanted it to feel like a real purchase, where you got something awesome when you clicked the "buy" button. So we made…
Meow the Infinite: Digital Deluxe Edition
The Digital Deluxe Edition is a one-time purchase you can make to support
Meow the Infinite
and get a ton of great stuff in return. Specifically, it has four big things that the free on-line version doesn't have:
| | |
| --- | --- |
| • | High-resolution PDFs. No blurry, artifacty web graphics here — just super crisp 300dpi images so you can enjoy all the beautiful artwork as it was meant to be seen, in the PDF viewer of your choice, on whatever device you choose. |
| | |
| --- | --- |
| • | Exclusive early access to every new chapter. The free on-line version never has the most recent chapter. Only Digital Deluxe Edition owners get that. So while your friends who don't have the Digital Deluxe Edition are still wondering what happens next, you can smile smugly, because you already know. |
| | |
| --- | --- |
| • | Expanding "Art of Meow the Infinite" digital book. This is a completely separate book packed with exclusive stuff like concept art, discussions of the characters, script development snippets, and lots more. Every time we make a new chapter, we expand this book with new concept art from the chapter, too! |
| | |
| --- | --- |
| • | Expanding wallpaper and avatar packs. These are ZIP files filled with cool scenes and characters from the comic, ready-framed for you to set as your desktop background, or mail to your mobile device to use as your lock screen. Like the art book, these get bigger as we release new chapters. |
I'm sold. How do I buy it?
I'm so glad you asked. You can buy Meow the Infinite anywhere you see one of these handy purchase badges: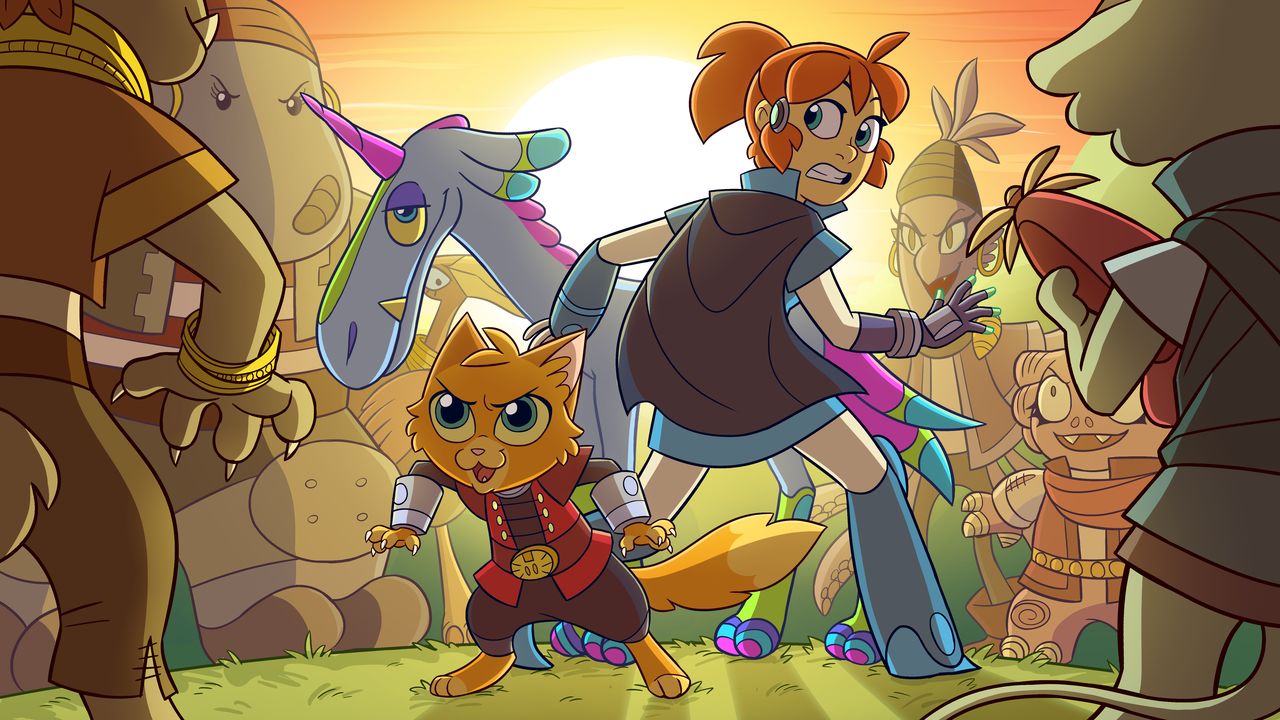 It's a one-time purchase for the entire series, so if you buy it at any time, you'll get access to every existing chapter
and
every future chapter as they are released. We hope you enjoy
Meow the Infinite
. It's our first time releasing a comic, so if you encounter any difficulties with purchasing or reading it,
please let us know
!